Your local New England Junk Removal Service
Junk Removal starting at $100
Fill out our form for a free Norfolk County, Suffolk County, Plymouth County and Bristol County Junk Removal estimate or simply call us.
Got Junk? Say No More! Home Junk Removal Is 1 Phone Call Away
In the junk removal industry, our name is a frontrunner. Our honest-to-goodness debris removal and clean-out services have made their mark in every location we serve, including the New England area. So, if you are on the hunt for a local junk removal company worthy of your time, money and trust––Junk Gladiators is the name to remember.
We serve numerous locations in New England, including Southest Massachusetts and Rhode Island. Gradually, we try to reach as many clients from different areas as possible. Be a first-hand witness to Junk Gladiator's first-class service. We cater to residential or commercial projects. Learn more about the areas we serve by calling or sending us a message.
Same Day Junk Removal New England
Junk removal projects can be big or small, but we do it all, whether quick cleanouts or major estate overhauls. We haul practically anything you can think of. As long as it does not involve toxic or hazardous waste, we come to your property and zap everything you want out of your sight. We are the one you should call when you should need the following: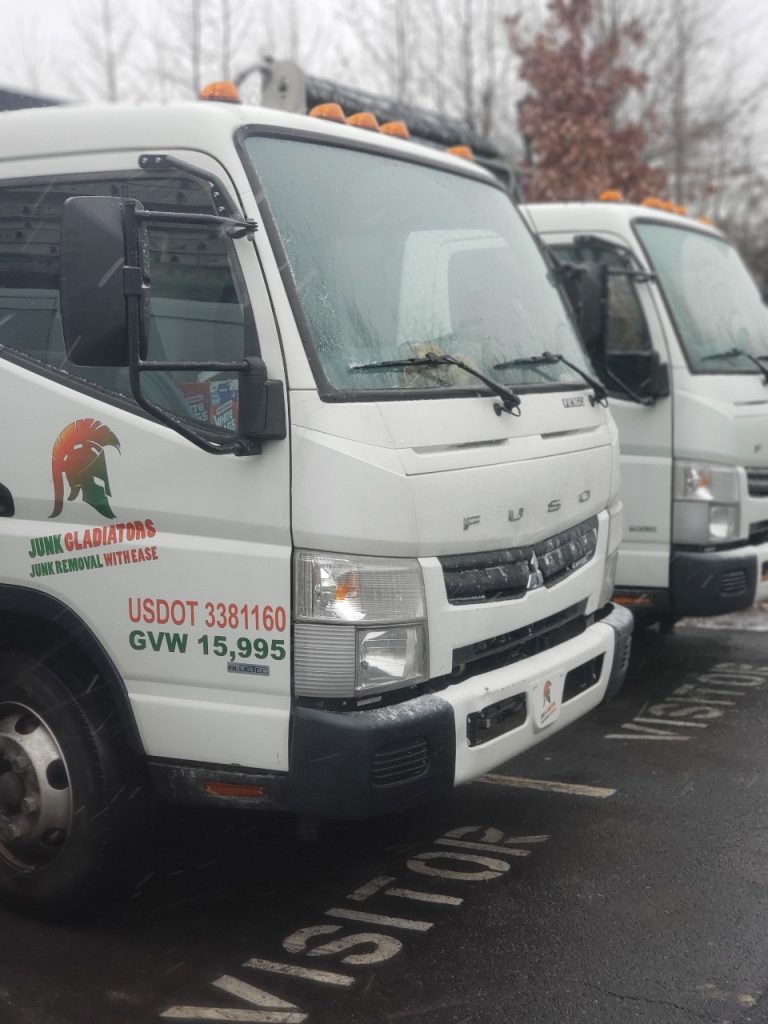 Our basic junk removal service is an excellent place to start—fully customizable projects depending on your space and its requirements. Point to where the mess is, and your friendly neighborhood junk gladiators will make it disappear! This category is perfect for your decluttering project, renovations, or organizing an office or house.
When the task entails a more comprehensive approach, we can handle it. Especially when it involves furniture, it requires rigorous handling. We specialize in tossing out complex furniture which might need disassembling or particular disposal methods. Sofas, dressers, mattresses and other belongings are as good as gone with us!
Tossing out a mattress can be a challenge for a regular homeowner. Even the smallest sizes can be difficult to navigate through narrow spaces. So, let our crew clear it our instead. Single, double, queen, king—consider it gone with our job well done! Apart from that, we also apply recycling methods so that your mammoth of a mattress won't simply lie around in a landfill for years.  
Basements are tricky. Dark, dingy and dusty as they are, it is also a huge chore to go up and down the stairs with your arms full with bags of junk. It also doesn't help when the junk is completely random and mixed up. Luckily, Junk Gladiators have went through years of experience with decluttering the years accumulated in basements. Our full basement cleanouts save you all the hassle.
Like
basements, attics are cramped and tough to navigate in. When your attic lays testament to your growth and progress, it's time to say goodbye to its remnants by disposing all the junk. Leave more room for more memories with Junk Gladiator's stress-free attic cleanout.
When there's a heavily cluttered garage, there are a lot of factors involved: labor, sorting, loading, hauling, disposing, and recycling! Redeem the original function of your garage and get it cleaned out before it overflows. Hire our garage cleanout now, and pretty soon, you'll be able to park your car in it!
Thus, there's no better way than to go for cleanouts with our crew. If you need junk cleanouts that do not rip out your pockets but still leave the premises without a spot missed, here's your chance to get the best deal. Affordable junk removal and cleanouts are right here in the New England area. Serving Massachusetts and Rhode Island, all you have to do is call and we'll be there, wherever the junk is.
We formulate junk removal prices depending on the type, the amount of debris, distance of the location from our headquarters and other factors. That said, we guarantee affordable junk removal prices. Upon request, we also provide free debris removal cost estimates. Numbers are upfront, honest and transparent. No surprise fees or hidden charges. Our offers are made attainable and reasonable so that we can make New England junk-free, one project at a time.
Aside from estimates, our consultations are also entirely free. Ask us about how we can help you, and we'll gladly shed light on it.
Why You Should Call Us…Now
We understand that the mere thought can be daunting, but that's what we are here for: to make the load lighter. Instead of putting the task off for another day, spend that energy calling our first-rate local junk removal. Save our contact details, so you do not have to go searching again the next time you need to remove debris. Feel free to reach us anytime you get lost in a maze of mess! We do it all for you and more.