Junk Removal Philadelphia
Junk Gladiators is the fastest, most affordable junk removal & demolition service in Philadelphia.
Fill out our form for a free estimate or simply call us.
What Our Customers Are Saying
Joshua Steinman
2023-03-14
Best junk removal company out there. Solid rates. Great work ethic. Used them twice already and will always use them. Danny, Damian and Luke are the best! Highly recommend. 5+ stars.
Kevin Zaborowski
2023-03-07
Absolute Professionals! Prompt service, great communication, clear and fair pricing and they do a fantastic job during the removal process. The crew notified me in advance of arrival, showed up on time and completed as advertised. Would absolutely recommend Junk Gladiators!
Reasonable cost...great service.
My husband and I called Junk Gladiators to remove an old stove. We were so happy with their prompt, friendly service! And they are a local company so we are happy to support their business. The price was reasonable and the whole process took just minutes. We would definitely hire them again! They are extremely professional!
Junk Gladiators was super helpful recently! Professional and efficient. I highly recommend!!
We had a family member who recently passed away and she had 2 storage units filled to the brim! We tackled the first one but the second was all big stuff that we could not handle. We called Junk Gladiators and they came out within the hour, were very up front with pricing and came back with an empty truck and took everything!!!! You don't get service like this anymore!!! It was such a relief to have this taken care of!!!! Thank you Dan and Luke!!!!
Susan Mergenthaler
2022-12-15
I can not begin to Thank you enough for such a Great experience. There were three gentlemen...they each introduced themselves to me, asked me how I was doing and then went to work. I had a refrigerator, a dishwasher, stove, washer and dryer..it took no time to load the truck..even after a few other things got added! Not only were they organized and worked like a finely oiled machiene but professional and courteous .oh and.the price was hard to believe! Try them you won't regret it!!
Friendly, timely, efficient, respectful, helpful, reasonable, ETC!!!
Great service! I totally recommend this company!
Philadelphia Junk Removal
Got Junk PA? Your job's price is all based on the volume of the junk we remove, not by how long it takes our Junk Gladiators to remove, haul, or dispose of your junk. All pricing includes labor, loading, dumping fees, tax, and a clean sweep. There are absolutely no hidden fees or charges. The best way to get an accurate and upfront price is a free, no-obligation estimate at your desired location. Upon agreement, we will begin removing and hauling your junk. We specialize in removing all household junk efficiently, making sure to properly sort through all the items we pick up for proper disposal.
Whether it gets recycled, donated, or dumped, we focus on providing eco-friendly junk removal and take the time to sort through and organize each load, unlike your typical Philadelphia trash pickup.
 Whether you're just cleaning up your garage or basement, disposing of your old mattress, upgrading to new furniture, or having a lot of cardboard from moving in. All this can produce a huge amount of junk that requires professional handling and labor intensive work. Let it be any trash or junk, or furniture and appliance, Junk Gladiators is always at your service. 
At Junk Gladiators, we take complete care of your residential and commercial properties and ensure proper disposal of all the junk. Our junk removal team does all the heavy lifting and lets you get rid of unwanted junk items once and for all!
Furniture Removal Philadelphia
Furniture seems to be everywhere in our homes, offices, and business, and most of these items are large, bulky, and heavy. It can be a pain to move, haul, and remove. Let Junk Gladiators help in removing and hauling all your old furniture that needs to be removed. If it looks old, smells, and prehistoric, it's probably a sign that it's time to let it go. Moving different types of furniture up and downstairs, through tight doors, and in and out of homes and businesses can be a daunting task, so why hassle with it when you can have Junk Gladiators do all the work. Sit back and relax and point at the furniture you want to go.
We'll break down all necessary furniture that needs to be disassembled, ensure all walls and doors are unchanged, and clean up afterward. We realize you have other things to worry about, so take this to-do off your list and give us a call. Our mattress disposal Philadelphia and other furniture disposal Philadelphia services will make sure your furniture is appropriately disposed of, recycled, and donated to the proper facilities throughout the community.
Couches
Sofas
Loveseats
Bed Mattresses
Bed Frames
Chairs
Tables
Dressers
Bookcases
Desks
File
Cabinets
Armoires
Boxes
Cubicles
Patio Furniture
And Everything in between!
Carpet Removal Philadelphia
Carpet is common everywhere. It's in our homes, businesses, and everywhere in between. If you're looking to replace your existing carpet, do a remodel on a home, need carpet removed, or have extra carpet that needs to go, we can help. Our Philadelphia flooring removal services will remove carpet and carpet pads throughout any property. You will be glad to know that we have worked with many designers and real estate agents who have used our services to keep projects running smoothly. We will make sure all carpet is properly disposed of and no debris left behind. In some cases, we can recycle the carpet; in other cases, the carpet is unsalvageable. Please contact one of our team members to schedule a Free Estimate.
Hot Tub Removal Philadelphia
The sounds of warm bubbling water and a night of relaxation sounds great, but the truth is, Hot Tubs can break down over time and when they do, they tend to stay that way. This turns into an eyesore in your backyard and a project that is hard to grasp. "Removal of my Hot-Tub." Whether you need to remove your Hot Tub or move into a house with an existing Hot Tub already in place, our Philadelphia junk removal services can solve this problem. Removing a Hot Tub can be very labor-intensive, plus they are large and bulky, taking up a lot of room in your vehicle. With Junk Gladiators, we have the proper equipment and Dump Trucks to safely remove and haul away your Hot Tub, saving you time, hassle, and your back. Call us now to get your Hot Tub Removed today.
Appliance Removal Philadelphia​
If you have old appliances that seem to be getting in the way and taking up space, we can help. Getting rid of these large, bulky appliances such as Refrigerators, Washing Machines, Stoves, and AC Units can be a nuisance and quite a chore for anybody. They can be hard to move, pick up, and down right back breaking. Junk Gladiators provides an easy solution to all your Philadelphia appliance removal needs. We have all the proper equipment to remove your appliances safely and hassle-free. Sit back and relax and let the Junk Gladiators team remove those unwanted appliances.
Upon removal we will make sure your old appliances find the correct home either in a local donation center, charitable center, or recycler. Contact us today to get started for your free no-obligation Estimate.
Washing Machines/Dryers
Washing
Machines/Dryers</li
Dishwashers
Refrigerators/Freezers
Lawnmowers/Trimmers/Etc.
Microwaves, Stoves, and Ovens
Water Heaters
AC unit
Construction Debris Removal Philadelphia
Junk Gladiators is a Full-service construction debris removal company. Which means that once you're in the midst of demolition, renovation or construction, you don't have to worry about what to do with the mess! Whenever there's construction, whether it's working on a remodel or starting from scratch, there will always be a big pile of junk for somebody to clean up. If you're a general contractor or in any related construction field, Junk Gladiators can assist in all of your construction debris removal Philadelphia clean-up. Our team offers full-service construction site clean-ups and will work with you to accommodate your schedule and deadlines to get the job done. Avoid the dumpsters and let us do all the clean-up. It's easy to get started, and we guarantee on-time, top-notch service. We're FULLY LICENSED, BONDED, AND INSURED and ready to make your project hassle-free. Focus on what you do best, and let us worry about the mess.
Avoid the rental fees of a dumpster. Why do all the clean-up from the loading, lifting, and cleaning, when you can call us and we'll do it all, when you want, and whenever you want. We make sure to leave the site debris-free and pick up any other junk, sweep the premise, and haul everything away. Focus on your project and don't get distracted by this added task. We gotcha covered.
Debris and Junk Removal Includes:
Get Contruction Debris out of the Way!
Junk Gladiators provides an efficient, safe and eco-friendly construction waste disposal service so you don't need to worry about the pick up or disposal of the debris after the project is complete. Whether you need our services several times during a construction project or just once after it is complete, our hauling professional will ensure that the construction debris is out of your way so that you can get on with the project.
These guys were great. Fast, professional, and very personable. Would recommend them to anyone. Don't go to anyone else for junk removal.
House Cleanouts Philadelphia
Realtors realize the importance of curb appeal and showing home buyers and renters home properties that are clean, tidy, and free of junk. If you are a realtor and need help cleaning up your properties, please contact us today to help alleviate this unnecessary headache for you. Junk Gladiators specializes in full-home property cleanouts and will make sure your property is junk-free and ready for sale, whether it's a home, foreclosure, estate cleanout, etc. Homebuyers or renters will be thrilled to look at houses that are ready to move in. Take this step out of your worklists and let us help you. We can work on several properties or schedule a junk removal time that works best for your busy schedule. Junk Gladiators offers fast and friendly junk removal with an emphasis on recycling when we can.
Philadelphia Property Management
If you manage a property from household rentals, apartment complexes, or commercial spaces, they all require a lot of attention and detail to prepare, clean, and maintain. The day-to-day operations can be time-consuming and stressful. Your main priority is keeping the tenants happy and taking care of their needs. Don't get distracted with cleaning out the properties or worrying about leftover items from tenants moving out. We are here to help every step of the way. We want you to focus on your tenants and customers, why we make your job easier! With Junk Gladiators and our property management Philadelphia services, it's a one-stop-shop. 
Book an appointment with us and we can do full clean-outs of the office or commercial building. Let us know what you want to go bye-bye and all the other unwanted items from the property, and we'll get to work. We're fast, friendly, and professional and ready to take on any project for your residential and commercial space. We're fully licensed, bonded, and insured and arrive when you want and when it's best for your schedule. Take care of your tenants, and let us take care of you! Call or email Junk Gladiators today to book a free, no-obligation estimate.
We look forward to working with you soon.
Property Management Includes: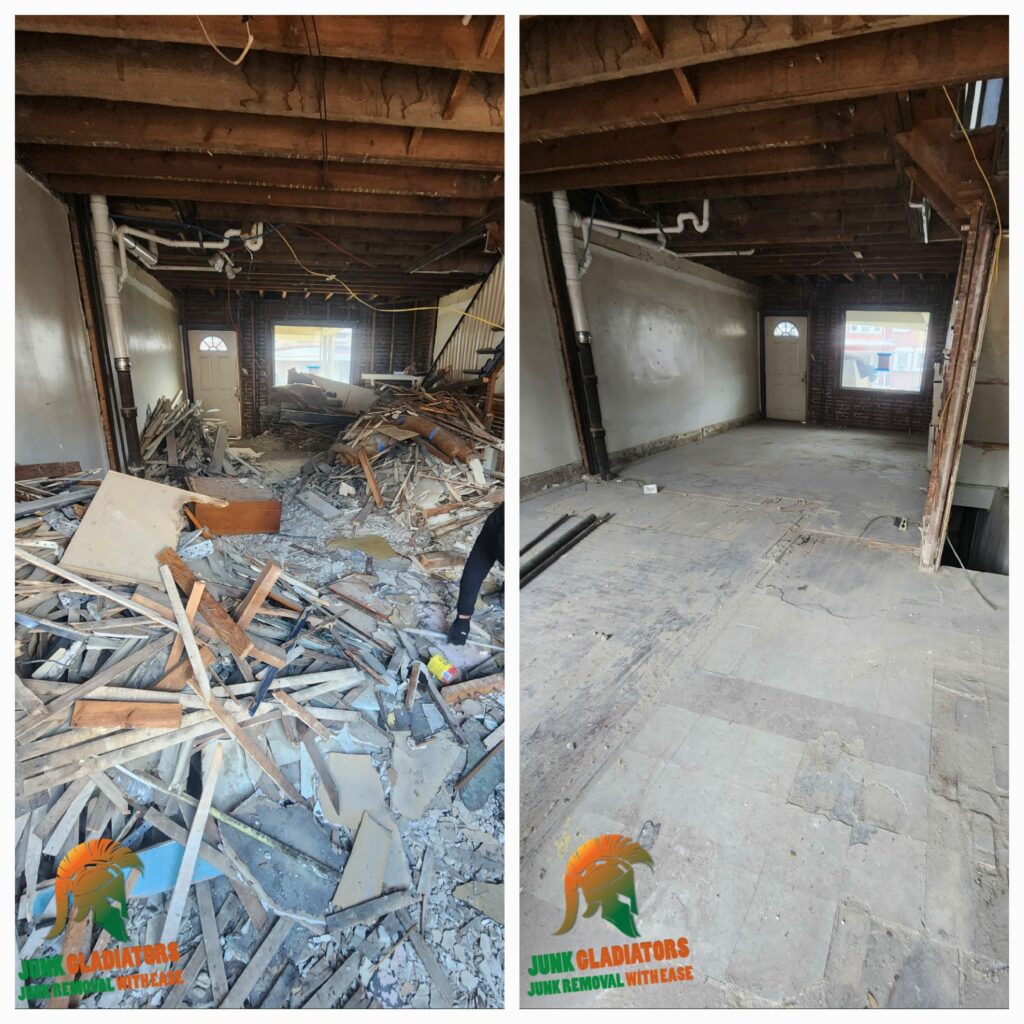 When it comes time to start that new project you have been dreaming of doing, you must promptly complete the Philadelphia demolition process. Finishing your project within your timeline saves you a headache and money. At Junk Gladiators, it is our top priority to complete your demolition project correctly and on time. You can rely on our trained professionals to accomplish the task at hand so that you can eliminate the middle man.
We understand that sometimes disasters happen, leaving you with a mess you never imagined having to clean up. You can rely on our demolition contractors Philadelphia to remove the leftover trash after water damage and clean out a house following a fire. Our fire restoration Philadelphia specialists will make sure your home or business is taken care of so you can get a new start.
The biggest worry most people have when dealing with a complete home clean-up or construction site is, where am I going to take all of the leftover debris? Let us take all of your worries away. We will handle the demolition Philadelphia services. In addition to removing the debris Philadelphia from your job site, we will make sure to dispose of it in an environmentally safe way. Junk Gladiators are reliable from start to finish.